A perfume creation is a fascinating experience through which fragments of intimacy become drops of an enveloping
flavor. Molecules mingle and bind casually, but at the same time specifically for each mixture of essence, just as events
through history originate tales and feelings that are unexpected but determining.
The idea of gathering a fragrance together with a fashion capsule has the purpose to explore the images evoked by the
storytelling of the same collection, through the sense of smell.
Fabrics, cosmetics, body care products, or even,
references, symbols, theories: a perfume holds the most tangible things and the most ethereal perspectives of a precise
period and his events.
Perfumery was carried out thanks to the precious contribution of a maitre parfumeur, who recreated a product that reflected the concept of the collection, through his long-time expertise and his refined and shrewd nose. The alchemist put together the olfactory pyramid in his workshop in Milan, by adding boudoir-evoking notes to something closer to Angelica's personality.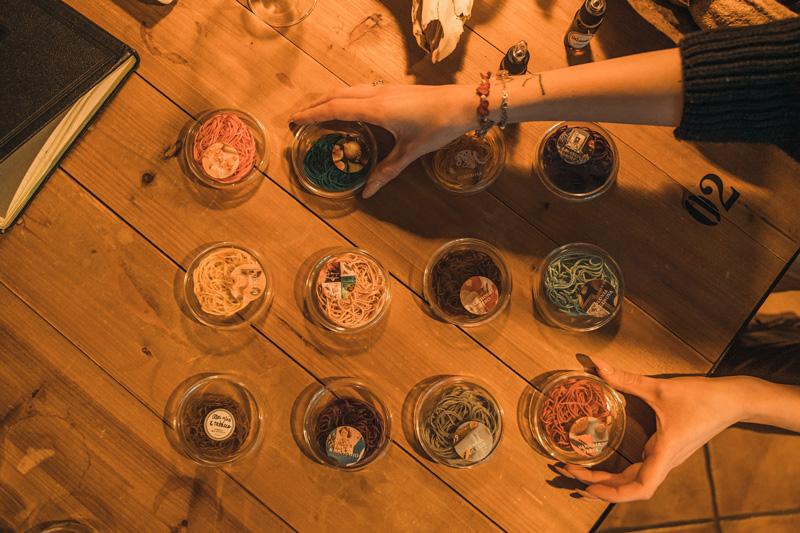 During Louis XV's reign there was a great employment of scents and the court took the name of "perfumed", especially because of the unbridled usage of fragrances by Madame de Pompadour, who was one of the most influent women of the XVIII century. In this period animal-derived notes, like musk or ambergris, were popular because of the abundance of pheromones that made their scent stinging: they had effect on hormonal system through the sense of smell, having a very seducting purpose.
The Court of Vienna was quite conservative instead, so she fought cheeky erotic references with the purity of flowers and the application of perfumes for themselves in harmony with the body. Jean Louis Fargeon, who was Marie Antoinette's trusted perfumer in Versailles, created rose or violet scented waters, with a base in vanilla, amber and musk.
The practice of scent the underwear dates back many centuries too. Silk, lace, velvet or satin have often been compared to smells: as they are material and sensual, they recall opulent perfumes and esoteric sensations when they are worn close to the skin. Women used fragrances as a weapon of seduction in the boudoirs, with bewitching effects on their guests.
Meet Me in my Boudoir is a warm, seductive, long-lasting but cozy and intimate fragrance, just like those women who get ready to powder and put on perfume in their toilette, waiting for their guests.
Violet leaves and root accents evoke tenderness and purity, as a velvet mantle wraps in a hug. The clean and elegant scent of talc strengthen in the poudrée heart notes of violet, weaving together with ylang ylang and tuberose that emit indole, so they give it sensuality and fleshliness. In the base notes, cedar warms up and softens the fragrance, enhancing the creamy sensation together with amber. Vanilla gives a naughty and gourmand touch with her breezy savoir-faire. At the end, musk seals the perfume into a crystal ball and makes it contemporary, as it was brought to our days from a XVIII century palace to a bedroom's dresser.